Lifting the BRAT
One of the best improvements you can make when it comes to the BRAT is a lift kit. Why? One reason, ground clearance. Ground clearance is gained in two ways when you lift the truck. First, the body of the truck goes up. That means that the rocker panel or fender that would have hit that 8 inch stump now has 3 inches of airspace between them. Second, the lift allows for fitment of larger wheels and tires giving you more ground clearance for the components such as cross members and suspension components that are not raised by the lift kit. Of course there are the other benefits. With the ability to mount larger wheels and tires you have a huge selection of true all terrain tires to choose from. Instead of being relegated to basic mud and snow tires you can select from tires like Super Swampers, Mickey Thompson Baja Belted or even a compromise between the two extremes.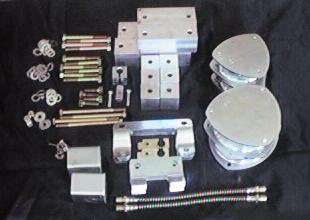 What you are getting in to:
The first thing you will hear outside the Subaru community is that it can't be done. Don't even waste your time walking into the local Rancho/Skyjacker retailer and asking for a kit or components. The only thing you will get is a chewing tobacco scented diatribe about the impossibility of lifting a BRAT.
You have three ways you can go with this: kit, custom solution, or self made. Kits are produced by a few suppliers and are the easiest way to go. The cost varies a bit between 300. and 600. depending on what you order and who you order it from. For the most part they are complete and you will need very little fabrication and you don't have to posses a great deal of experience. The kits are configured to provide different heights of lift, common heights are 30mm 2in, 3in and 4in. A custom solution is ideal when a kit won't suit your needs and you have the knowledge but lack the gear to fabricate it yourself. Should you have access to all the equipment needed you can make a kit yourself and it really isn't all that hard. Check the Mods section for an example of a self built kit. Check the Vendor page for links to retailers selling kits as well as other components you might need. Once lifted, and depending on how much lift you have, there are two primary solutions to the wheel and tire problem. For a no-mod bolt on solution there are the rims from Pugeot and a few aftermarket wheels no longer in production. The other solution is a very simple mod that converts the BRAT hub to the Toyota six lug pattern. Your tire size limit will depend on the amount of lift and how far you trim your fenders to allow for the bigger tires. Below is a chart compiled from some personal experience and the results of others. Feel free to contribute your experience!
| | | | |
| --- | --- | --- | --- |
| LIFT IN INCHES | UNCUT FENDERS | CUT FENDERS | NOTES |
| 1 | | | |
| 2 | | | |
| 3 | | 28x7 | Mudrat mounted 29x8.5 on a hatch |
| 4 | 27x8.5 | | |
| 5 | | | |
| 6 | 28x7 | 31x10.5 30x11.5 | |
| no documented lift above 6 inches | | | |